The strength to give shape to the visions of our customers
Sanken is equipped with an integrated system to undertake everything from technology research and development to product planning and development, evaluation/analysis, design, and manufacturing. In some cases, we develop materials to meet customer needs, and utilize three-dimensional computer-aided design (CAD) and computer simulations. In the process of evaluating and analyzing product functions and reliability, we employ a range of test equipment and perform high-precision verifications.
Design of Exhaust Systems

Unit Vibration Test Chamber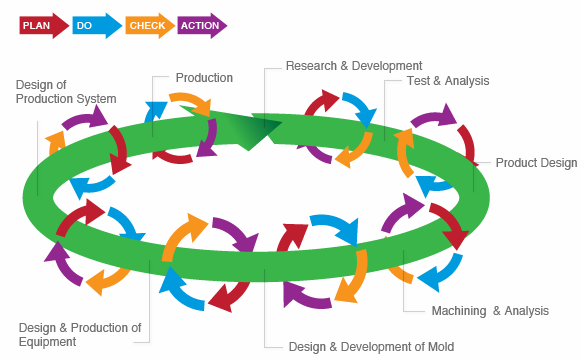 Traditional die-making technology and leading-edge production systems and equipment
When we receive formal specifications for production, we develop a product design and a production system. In tandem with our production divisions, we pursue the ideal type of production equipment with an aim to achieve cost reductions, good yield, and an improvement in quality. Noted for our in-house development of dies, fixtures, NC bending equipment, and welding machines, Sankei introduces and redesigns the latest production systems and equipment, in areas from stamping to molding, welding and surface treatment. Our well-established approach to flexible production in response to demands for accelerated development cycle and small-lot production, is highly evaluated regarded.
Servo Press (Ano Factory)

Plastic Plating Line (Akabane Factory)
World-class quality and compliance system
Sanken places the highest priority on following regulations for international standards in order to flourish in the global market. Our production facilities have consistently obtained the international certifications of ISO 9001 for quality assurance, observing quality regulations of the world market, and ISO 14001 for environmental compliance, to fulfill our responsibility to preserve the global environment.